http://www.partition-saving.com
Copyright © 1999-2019 D. Guibouret
Use of Windows version with Windows installation DVD
Table of contents
1- Preamble
2- In case you do not have the installation DVD
3- Before booting with the DVD
4- Using the DVD
This file describes how to use the Windows installation DVD to use the Windows version of Partition-Saving. As the DOS version tend to be less and less usable with modern hardware, this is a simple replacement to a DOS boot CD-ROM. This can be used with Windows installation DVD starting from Windows Vista. For previous version of Windows, you need to use a BartPE or UBCD4Win CD.
Another alternative is to use the Linux version with a Linux LiveCD.

2- In case you do not have the installation DVD
In case you do not have the installation DVD because you get some limited OEM version, there is some alternative:
you can create a Windows repair CD from Windows, but it depends on what was installed on disk. For that you have to go to "Control panel", "System and maintenance", "Backup and restore" and choose "Create a system repair disc",
you can use the Windows repair console that can be launched at boot. For that you need to hit the F6 key at boot (just after BIOS boot screen and before Windows loading screen), choose the OS entry to use (if you have several versions of Windows, use a Vista or Seven one), hit the F8 key and choose "Repair computer",
you can download the Windows AIK kit from Microsoft site.
Using these alternatives is very similar to what is described below, there is some differences in screenshots (e.g. you will not get the choice to install Windows).


3- Before booting with the DVD

Before booting with the DVD, you need to prepare a little your system. This is:
copy the spartwin.exe (or spartw64.exe if you use 64 bits Windows) binary somewhere on your disc where you can easily find it,
because the drive letter will perhaps not have the same meaning that in Windows, it is better you name your partition as described into chapter 4.g of HOWTO,
read the HOWTO.
Notes:
despite what is described in chapter 3 of HOWTO is DOS related, you will get very similar commands in Windows recovery console,
unless you plan to save the partition on itself, you do not need to pre-create the files on NTFS partitions as described in chapter 4.h of HOWTO as you will use the Windows version that is able to create files on NTFS partitions. If you plan to save partition on itself, you still need to pre-create the files, but you will be able to perform that from recovery console.
Note: to view screenshot for older versions of Windows, you can refer to the French version of this page.
You have to insert the DVD before booting, then hit a key when it proposes to. You get some starting screens telling you Windows is loading and searching for your hardware, then you get the following screen:
It asks you to enter the language and type of keyboard to use, then click on "Next". Then you get the main installation screen:
Do not click on the "Install now" button but go on the left bottom corner and click on "Repair computer".

Depending on Windows version, this will lead you to a screen where program searches for the installed versions of Windows then requesting you which version to use (see the two screenshots in French version). Having no version or several to select has no importance when using Partition-Saving, so you are free to chose one or another. It will have if you want to perform some other tasks related to the recovery console as repairing the boot or using a previous backup point. In case program complains the Windows version does not match the one of the DVD, you have to select the one matching DVD version (if you have choice between several Windows version) or you can workaround this with:
clicking on the "Load driver" button,
clicking "Ok",
going where Partition-Saving binary is,
entering "*.exe" in filename in case no file appears,
performing a right click on spartwin.exe and choosing "run as administrator",
clicking on "Cancel" twice in driver loading windows,
clicking on Partition-Saving window to put it on top.
For more recent versions of Windows, you get the following screen:
and you have to click on "Troubleshoot".

If you did not get trouble with Windows version or use a recent version, you obtain screen where you will be able to choose what you want to repair:
To use Partition-Saving, you have to choose the last option ("Command line", "Command prompt" or "Recovery console") and you get the following prompt:
The X: drive where you are, is a RAM drive (a partition that is simulated in memory) that contains the Windows runtime (do not create the backup files on it, as its content will be lost when you will leave the recovery console). From there you can launch Partition-Saving. You need first to find where you copied the spartwin.exe or spartw64.exe file to be able to launch it. As drive letter could be different from what it is in Windows, you can need to use the "dir" command to list the directory content (as "dir d:\savepart" to list content of the "savepart" directory on "D:" drive). In the below example the binary is on D: despite I copied it on C: when being within Windows (this is due to Windows having created a small boot partition before its main partition). In case you want to save the partition where you put the Partition-Saving binary, you need to copy it first to the RAM drive through: "copy path_to_binary\spartw64.exe x:\" (letting it on the partition to save will prevent program to access this one):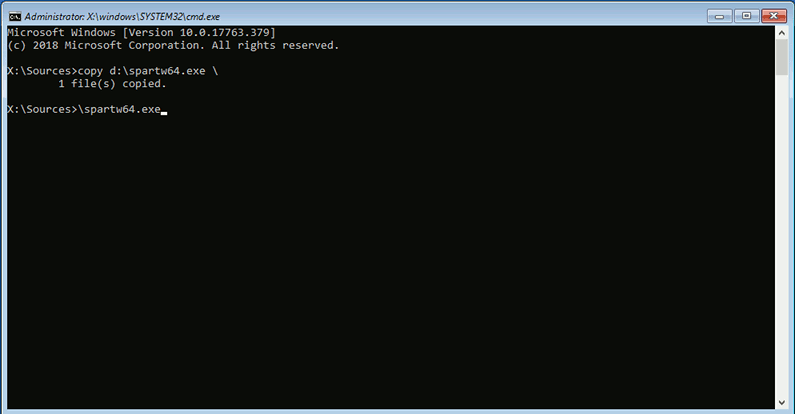 Then you can launch the binary and follow the various activities as described into HOWTO.
Once you have ended program execution, you came back to the prompt and you can enter "exit" to leave it: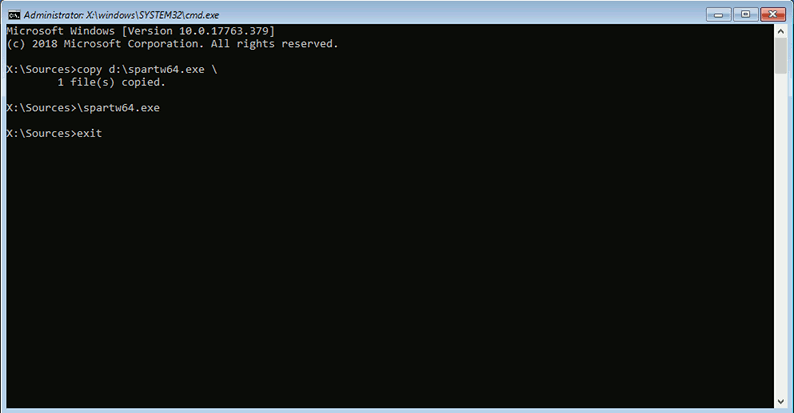 You get back to the repair choice screen from where you can halt or reboot computer (for recent versions of Windows, only halt option is available):
Back to homepage
---
All trademarks and registered trademarks are property of their respective holders.